About author - Svatava Vizinová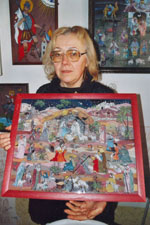 Interest and experience in ecological activities, yoga, spiritual studies from Catholic faith to Buddhism, enthusiastic reading and years of youth work, looking at the world around me, all this made me believe that our society is in a deep crisis. A crisis of psychological-spiritual character. I guess the only possible way to deal with this situation is by changing people to waken and reach a higher emotional maturity, to listen and discover everyone´s spirit and character. The present situation of society, where we are going and what is our aim, racial, social and religious abuse, the manipulation of the individual by the mass media, the pushing aside of ethical aspects, the missing of empathy with the needs of the surround, the distaste for voluntary modesty, the attitudes towards ecology – all of this looks almost tragic. In my opinion the situation described cannot be solved from above. Each of us can start from himself.
What i am doing presently I considered to be part of my journey and I still believe in it. Written in this briefness it may sound like a phrase, a mere vision and somehow quite unrealistic. I have been living in Zabrdi in the Bohemian Forest for four years now and things are going my way. In order to live in a village, I had to get a driving license (no doubt every driving school loves fifty-year-old pupils and just me, God and the driving instructor know how hard it was to get one). I found a big room in a big house, sold my comfortable three-bedroom-apartment, resigned from a well-paid job and moved to the newly bought house in Zabrdi. In order to start out I worked 14 hours a day for a few months and still I work from morning until the evening every day. I cut out, stick, decorate, draw, guide. There is dust on the books I brought with me...But so far I have never regretted my decision. My hands are witnesses that all what has been made here has not been achieved easily, and simply what I have created fulfills the aim, however much it had seemed to be a sci-fi dream. As my visitors´ reactions show, I am on the right way. There have been almost two thousand people here by now, not only from Europe but also from Australia, Canada, the USA. Regular strange people just come and then they leave as smiling friends. And it seems they don´t want to leave, they spend another moment at the exit from the exhibition room, then one more minute on the stairs, in the yard, by the gate... And they wave their goodbye. And they write. And come back... I dare say they take something away inside them... I dare say something will last.